Today I found another bug:
Go to Simulate
Go to Test Combinations
Load a Generic Character. In my case, I loaded a Windwalker Monk
Open up Player, you'll see Renown is set to 59
Open up Soulbind, set several of the potency conduits to 15
Set Settings to Mythic+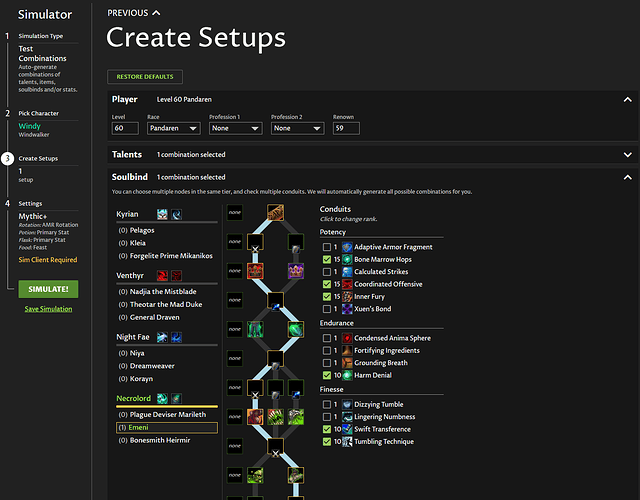 Simulate
The result here shows the Monk deals 17,531 dps at Renown 59, with level 15 conduits.
If we then repeat the exact same, except now: we change the Renown level to 80. Let's see what happens:

We can now see, the DPS has decreased to 14,936. The only thing that's changed is the Renown level. So, why would increasing the Renown level, reduce the DPS from the simulator?
As a follow-up question: which result is accurate?
I have simmed a few characters at Renown 59, and had 22k dps. Then when I sim it on Renown 80, it decreases down to 17.5k. Which do I believe? Do I believe the 22k dps at renown 59, or the 17.5k dps at renown 80?