Hi everyone,
I recently picked up a large item level upgrade on a helmet that had the same outer ring trait as the one I'm currently wearing.
From what I've seen so far, AMR attempts to choose the most fleshed out azerite piece. It's also doing it in this case:
285 Outer ring (Unbound Chaos) and middle ring (Vampiric Speed)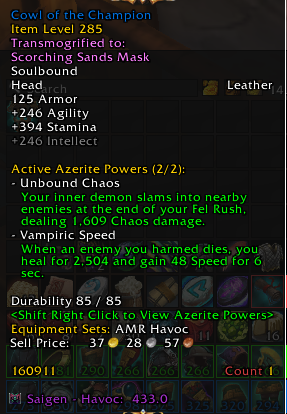 over
340 Outer ring (Unbound Chaos) and no other traits unlocked
By default, I leave my modification threshold at 1%. Even at 2%, it still makes this same decision. Thanks for reading - any help is greatly appreciated and welcomed.
63;US;Area 52;Saigen;Toast IV;1;2;120;14;11:80,4:11;2;.s2;5;1213321;.q2;158075s2b1498b3434b1b3t79;76s12b-3399b3247b19t80;4s14b-4763b1472b3273b17b1t45;207s11b-3291b3267b7t82;926s15b-3274b3267b7b16t84;7s8b-3290b3267b7t85;15s1b-3274b3274b33a278501t86;20s5b-3322b3288b33a-4667t56;7s10b-3306b3267b7t57;8s7b-3259b3252b5t88;314s17b-4743b1441b3295b8t63;66s6b-3273b3267b7t91;385s16b-3274b3267b7t92;104s9b-3274b3267b7t93;899s13b-3264b3263b18t68;2319s3b-3271b3593b15a6743t74
$63;US;Area 52;Saigen;Toast IV;1;2;120;14;11:80,4:11;1;.s1;4;1311232;.q1;154449s5b1517b3268a280402t78;3466s3b-3268b3268a-1902t42;160s2b-3287b3434b1b3t79;76s12b-3399b3247b19t80e5945;211s11b-3291b3267b7t82e0;12s14b-3274b3267b7b16t83x153708;914s15b-3290b3267b7b16t84;7s8b-3290b3267b7t85;42s10b-3274b3267b7t57;8s7b-3259b3252b5t88;308s16b-3272b3267b7t90e20;72s6b-3274b3267b7t91;385s17b-3274b3267b7t92e-1;104s9b-3274b3267b7t93;697s1b-11a-3356a-6545a-4621t67;202s13b-3253b3263b18t68$e\5945\153445\255078\37 Versatility\152877=8,152876=5,152875=20@e\5965\159785\268907\Crit\152876=8,152875=20,152877=1@e\5964\159787\268901\Mastery\152876=8,152875=20,152877=1