So I noticed that mr robot seemed to actively avoid the 4 set tier bonus for my brewmaster spec? Equipped to get the 2 set, and when I kept locking in more pieces it kept unequipping tier pieces to stay at 3/5.
Like in this example (Snapshot ID 27b36a56b769425480b537087c06a7ac), it prefers to drop 20 item levels to stay away from the 4set bonus… This seems very weird to me as the 4 set bonus seems very powerful for damage, seeing how Keg Smash is our highest damage ability by far. So I tried to see if I moved the strategy all the way over to DPS and the behaviour looked the same…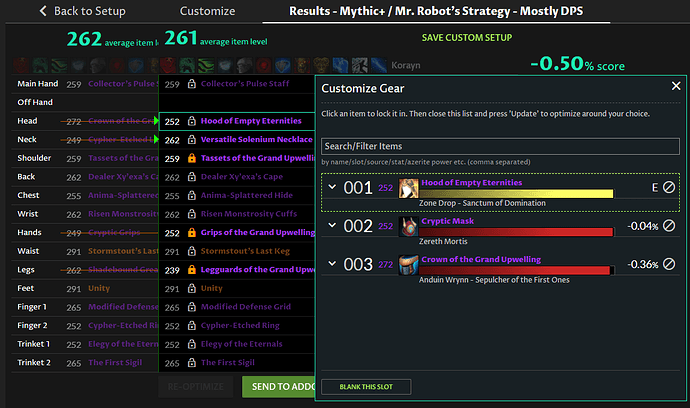 So I had a look in the theory wiki and had a look at the 4T28 set bonus.
https://www.askmrrobot.com/wow/theory/mechanic/spell/setbonusmonkbrewmaster4t28?spec=MonkBrewmaster&version=live
The code for the healing seems to be correct, I don't see anything that would limit the health increase to cap out at 10 stacks of keg of the heavens, but not sure if that would have any effect. But the obvious thing is that the damage multiplier for keg smash is 0.5 when I would assume it should be 1.5?