Snapshot ID: ae4a76c028ac4f8693f023c76bd41b6a
If this has a fix underway, I apologize. However, I could not help but notice that Flurry Axe (MH) and Felstriker (OH) are being suggested over Deathbringer, Crul'shorukh, Rank 14 Weapon, Doom's Edge and other BIS Axes.
It is somewhat common knowledge that (Phase 2) Death Bringer (MH) and Flurry Axe (OH) are BIS for Orcs.
In Phase 3, somewhat debatable if MH or OH, Crul'Shorukh pairs with either Deathbringer or Doom's Edge for Orcs in order to achiever maximum DPS output.
As you can see on the printscreen below, Doom's Edge and Deathbringer are nowhere to be found among the top upgrades.
There is a well known Discord for warrior's theory crafting and all sorts of other information. Within, there is a spreadsheet Proc informations and which one has been validated.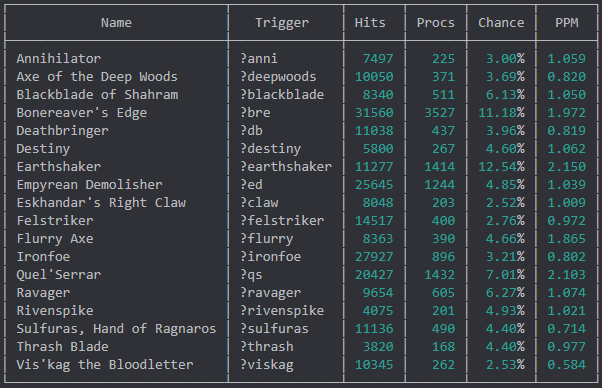 There is also a DPS Simulator for Classic going around which utilizes the information derived from the Discord above.