It should say "Ok, I got 1, drop back to normal priorities". But instead it's saying "Grab 1, but still prioritize this even if it downgrades". Which would be "Grab as many as possible", and there's an option for that. "At least 1" should literally just grab 1 and then go away
Here's my example of where it's happening-
Normal, no customization: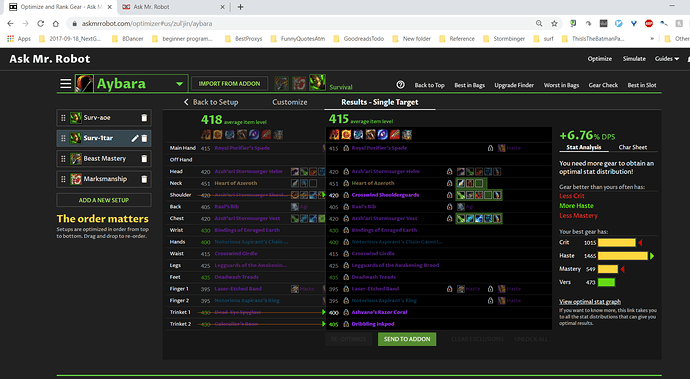 Note that Wilderness Survival (
) already has atleast 1 picked. So far so good.
Ok, the problem happens when you add a "At least 1" option for Wilderness Survival:

Nothing should change, right? The gear already met the "At least 1" requirement. Unfortunately, he DOES change the gear. And starts adding more Wilderness Survival's, downgrading by as many iLvls as you allowed. Again, he shouldn't be downgrading or changing anything since the "At least 1" rule was already met
Here's the picture of the change after adding the should-have-been-redundant-with-current-gear rule: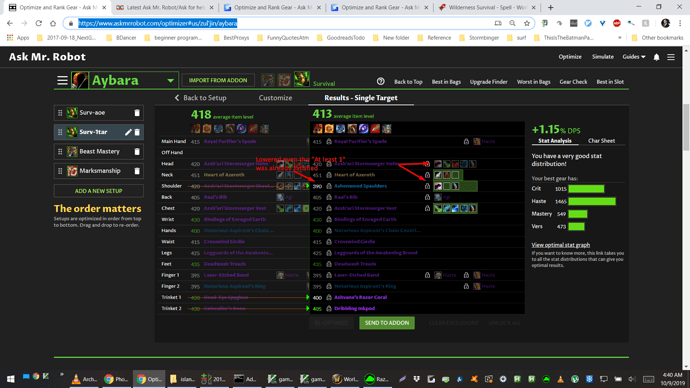 I love you guys, AMR was already the smartest bestest thing, and then you add this feature that literally lets you get EXACTLY the specific traits and stuff you want. BRILLIANT. Love you guys, tytyty <3