If not, is there a way to pick the tier version at a specific iLevel to add to the list manually? I'm trying to do the latter, with 'Add to my Bag', but I've never had any luck using that functionality…it just doesn't seem to consider it afterwards, no matter what I add (perhaps I've missed a tutorial?").
Use case right now is, "Would that 278 in my vault be morebetter as a tier item than the 275 I have now, than this other 278 upgrade to a 275…"
Edit: I figured out how to use 'Add to my Bag' and it seems to work. Still would be nice for it to be automagic.

Edit#2: 'Add to my Bag' does not let me add the item to my Grand Vault picks, so…back to an ask.

Edit#3: Also couldn't get around it by adding all the vault items to my bags and trying 'best in bags' for various combations. With: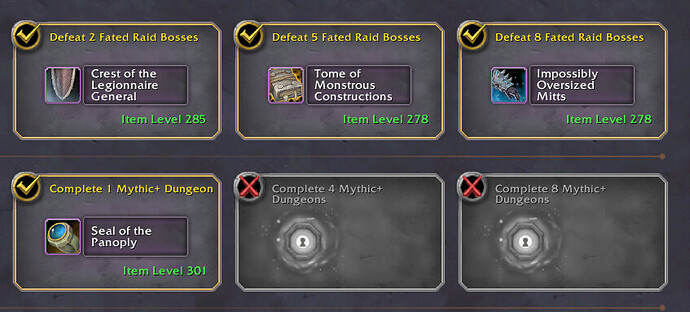 I could not get the 278 Tome or 278 Mitts to come up to add…but since I was really wondering between the crest and the tier mitts…
worked just fine.