Usually on the site, you can click pretty much anything (gear piece, gem slot, enchant slot, OR minor essence slot) and have the option to choose something lower on the dmg list if you prefer, AND it shows you how much % dmg you're losing, and of course it sorts them with the least-dmg-lost-by-changing are at the top
For example, even the minor essence slots give you this sexy menu:

Frustratingly, Major Essence slot is the ONE duder that refuses to work this way:

Asking us to go back to the talent-select page would be fine if for some reason it HAD to be wired that way, except it's just a drop down. There's no % comparison like with all other slots

And we know our beautiful robot pal has this information, since you can just select a different one, find best in bags again, and check the big % at the top right. It's just, you have to do that for all 15 or w/e essnce powers, click the submit button, write down this value change, go back, repeat, make your own spreadsheet, etc. /sad panda
Like so:


then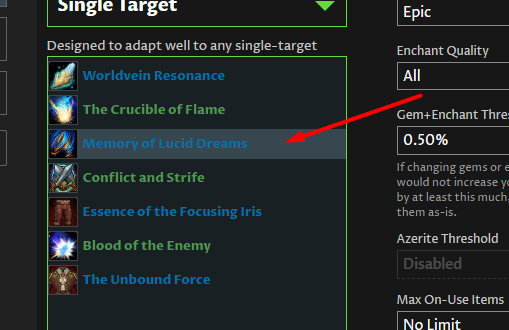 then

Love you guys a million, ty sexy brilliant robot man!