Hi, I was trying to use BiB to select gear for my monk and got a really weird result where it is saying Highborne Compendium is better than my 445 Edicts of the Faithless.
I went to go use the simulator to see why that was and the logs aren't really clear how it's handling stagger damage. In game, stagger seems to apply prior to absorbs, then ticks every 0.5sec (and can be absorbed). But the only place i can find it in the sim log is under healing or miscellaneous (and sometimes with confusing notes, like being triggered by blackout strike???).
One thing i also noticed in the sim, is how Edicts itself behaves. Looking here in the logs for Edicts: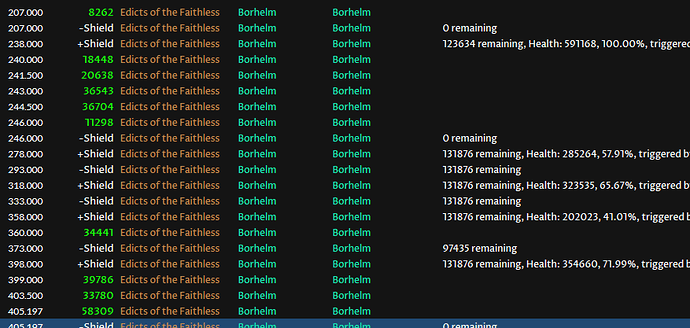 At first glance it appears to mostly be working fine (although shields absorb stagger ticks, and it doesn't appear to be doing that), but then between timestamp 278, and 333 it seems to just break. It refreshes and falls off several times but doesn't absorb ANY damage in that time frame. My character, however, is clearly taking damage based on the HP percentages on the right.
Is there any insight that can be given on this?