Hi,
I'm concerned that AMR Best In Bags (probably other features too, but let's stick with this for now) is not properly evaluating the stat procs on some of my trinkets.
I have two trinkets in my bag right now that, upon mouseover, report that they provide 0 stats on proc. See images here: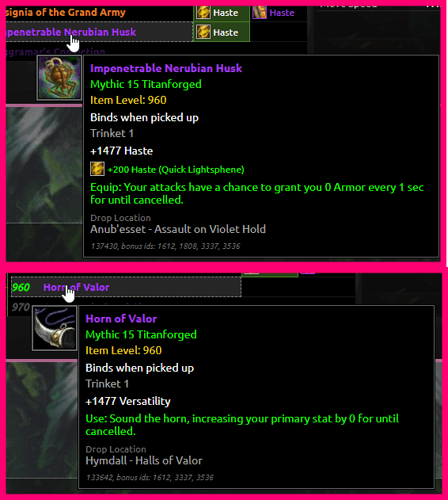 Horn of Valor
Impenetrable Nerubian Husk
I'd expect these values to match the numbers I see in my bag: 8,600 and 581, respectively.
Because the numbers are 0 in AMR, I am concerned that they are not being properly evaluated in BiB optimization.
At the very least, this is a visual bug, but perhaps also a functional one.
Export string here:
57;US;Area 52;Timtimtim;Toast;8;2;110;13:800,15:283,11:800,3:810,14:800,12:800;2;.s1;19;1332032;963,1,1,1,1,1,1,1,1,1,1,1,1,1,1,209,156,35,176,1,1,1,89;1,1,1,1,1,1,4,4,4,4,1,4,4,4,4,4,1,1,4,1,1,19,1;147097b1472b3336b3564,151012b3189b3337b3397,137495b1537b1727b3528;1,1739,41,4,-814,5,1,1,0,1,0,0,1/2,763,40,5,-810,2,-7,1,1,0,0,0,0/3,770,40,-2,-801,-5,-2,1,0,1,0,0,0;.s2;20;2112133;1120,1,1,1,1,1,1,1,1,1,1,1,1,1,1,1,208,35,179,1,1,1,86;1,4,4,4,4,4,4,4,4,4,1,1,1,1,1,1,1,1,4,1,1,28,1;136717b1607b3337b3535,152047b1492b3337b3610,152026b1517b3337b3611;1,1739,41,2,-661,436,-434,1,0,1,0,0,1/2,616,41,-10,-643,-3,433,1,1,0,0,1,0/3,182,40,-9,-645,-2,1,1,1,0,0,1,0/152046b1472b3528b3610,615,35,1,-648,-4,3,0,0,0,0,0,0/137366b1592b3528b3536,613,41,-10,-641,-5,2,0,0,0,0,0,0;.s3;21;1211120;40,1,1,1,1,3,2,1,1,1,1,1,296,1,1,1,765,157,286,1,1,1,83;1,4,4,4,4,4,1,4,4,4,4,1,1,1,1,1,1,1,4,1,1,24,1;152046b1457b3528b3613,151000b1512b3336b3573,150996b1502b3528b3573;1,1739,35,-4,-1726,8,-5,1,0,1,0,0,1/2,1692,40,5,-1732,-11,12,1,1,0,0,1,0/3,1686,40,-9,-1727,1518,-1517,1,1,0,0,1,0;.q1;128823s16b735x147097y3915z-13517;3621s2b1076b1819x14088e5439;2081s12b-2038b1745b173e-11;2451s5b-1898b1725b199;70s11b-77b171x0e0;288s8b-2018b1725b199;118s13b-1949b221b1529b236x0;7046s9b-3531b1565b1730b198;7524s6b-3492b1439b326b1528b274x0;127s15b-3568b1415b2071b85e6;1s10b-2141b336b1720b82x0;1s1b-3568b1430b2056b82;2s3b-2138b2056b82;866s7b-2108b2026b84;1156s14b371b1;.q2;128866s17b736x136717y15330z-21;1s16;4812s12b861b1739b200e5428;92s15b-3496b1577b1720b198e6;497s10b-1913b1715b199;257s11b-1944b1745b173e-6;2451s5b-1898b1725b199;358s8b-1924b1725b199;6915s13b-1725b1819;26s1b-171b171;223s9b-3588b1565b1730b198;7468s2b-2038b1840b273e10;56s6b-3567b1439b326b1528b274x-443;394s3b-2123b2041b83;603s7b-2109b2026b84;1154s14b372b7;.q3;120978s16b737x152046y-1046z-4;11466s2b1074b1819x587e5439;2081s12b-2038b1745b173e-11;2451s5b-1898b1725b199;70s11b-77b171x0e0;288s8b-2018b1725b199;118s13b-1949b221b1529b236x0;7046s9b-3531b1565b1730b198;7524s6b-3492b1439b326b1528b274x0;127s15b-3568b1415b2071b85e6;1s10b-2141b336b1720b82x0;1s1b-3568b1430b2056b82;2s3b-2138b2056b82;866s7b-2108b2026b84;1156s14b371b1;.r;_;.inv;3371;2996;581;10254;3898;419;5;19;202;461;47003;1;18189;5278;2;3;16394;0;0;1484;5855;4563b737x152046y-1046z-4;309b-134b984b1750b236;2814;0;1;1;0;1;1;0;0;0;0;0;0;0;0;0;0;2;10;1;2;4;547;3164;6;0;8;0;0;0;0;0;0;0;0;0;0;0;0;0;0;0;0;0;0;0;1;0;0;0;0;0;0;0;0;0;0;0;0;0;0;0;0;454;206;32;6;4;1;270b-2838x-3899y3915z-13517;277;0;1804;0;1539b1076b1819;1b-1819b1819x14088e5439;8b-1819b1819;1109;4;5;1;0;0;0;0;0;0;0;0;1;1;3;3;63b-2018b1725b199;38;75e491;8b-1954b1754b174;8b-1918b1936b8;409b-1939b1931b7;45b-1933b1734b199;42b-1998b189b1610;139b-1744b1936b8;106b-1944b1936b8;2b-1949b1941b7;5b-1923b1725b199;1b-1959b1759b173;13b-1987b204b1610;6b-3295b1541b1946b6e-502;0b-1947b221b1720b7;0b-1938b1739b200;1838;331;70b-1944b1936b8;239b-77b171;3b-1819b1819e6;26b-171b171x0e-6;1b-1819b1819x0e0;23b-171b171;16b-1819b1819;19b-1819b1819;239b-2058b1764b237;17b-1986b1941b7;5b-1943b1936b8;0b-1944b1936b8;64b-1924b196b1529b199;22b-1949b221b1529b236x0;21b-1961b1725b199;1312;390;518b-153b2;3b-1b1;1b-4b4;112;2;57;324;259;136;0;0;1018;84;0;428;7b-1808b1760b199;1557;104;474b-77b171;99b-1819b1819e501;34;2275b-171b171x0y0z0;90;802;162;3412;175b-2043b221b1529b78x0e-501;19b-1838b231b1529b78x0;3b-1803b1725b199;238;15;2;59b-1725b1819x0e0;9;138;1;145b-3590b1432b2056b82;0b-2113b1839b275;1b-2124b1850b276e6;27b-2156b2071b85e3;0b-2141b2056b82;0b-2123b2041b83;0b-2139b2056b82;1b-2138b2056b82;6b-2153b2071b85;1b-2141b2056b82;2b-2138b2056b82;0b-2123b2041b83;1b-2134b1859b274;2b-3570b1432b2056b82;31b-2138b2056b82;0b-2133b1859b274;1b-2138b2056b82;1b-2133b1859b274;2b-2118b1844b275;1b-2149b1874b277;1b-2126b1850b273;0b-2133b331b1528b274;2b-2123b2041b83;2b-2139b2056b82;1b-2128b1854b274;2b-2123b1850b273;3b-2138b2056b82;2b-2138b2056b82;16b-2118b1844b275;2b-2139b2056b82;0b-2123b2041b83;1b-2139b2056b82;0b-2138b2056b82;17b-2138b2056b82;1b-2128b1854b274;26b-2123b2041b83;1b-2124b2041b83;57b-2129b1854b274;1b-3568b1415b2071b85e-3;1b-2141b336b1720b82x0;0b-2153b2071b85;1b-3571b1430b2056b82;0b-3567b1429b2056b82;0b-2153b2071b85;1b-2156b2071b85;1b-2141b2056b82;130b-2138b1865b276;0b-2131b1854b274e4;1b-2138b2056b82;38;54b-3567b1439b1854b278;40b-2142b336b1720b82x0e4;28;1;1;1;179b-151b171x0e-14;62b-2158b2056b82;45;0;0;0;2;0;1;1;0;0;1;0;0;1;0;1;1;1;0;0;0;0;0;0;1;0;0;0;0;0;1;0;0;55;0;133;87b-2123b2041b83;108;9;1;0;0;0;1;2;1;1;0;0;0;0;0;1;1;0;1;0;0;1;1;0;0;0;1;1;0;0;0;2;0;0;2;0;1;0;1;0;0;1;1;0;1;0;0;0;132;885b372b1;1671b-2502b2046b82;0b-2128b2046b82;5b-2128b2046b82;4b-2128b2046b82;132v110b15;26v0b0