Unfortunately I don't have the original game export but I do have a snapshot.
837897382d2d4282b91da7a7f5bd7292
I don't know why it's not choosing Edge of Night for Subtlety M+ or Combat M+ when looking at the Great Vault result.
If I look at BiS it chooses two of them!
I already took the Edge of Night out of the vault, as it was a clear upgrade for Subtlety ST but if I reorder my specs it doesn't choose it over what I have for _Subtelty M+ which makes even less sense.
f03f3702cfcb4bdc8c6e3a6ebe3a53bb
The same thing happens if I put Combat M+ as the top spec.
ab80945ff1324860b2c29197734f13bb
Left as the second spec Combat M+ wants to use my 239 dagger in my off-hand and put Celestial Guidance on it, that's my old main hand weapon. I was expecting it to use the Edge of Night anyway even with Sinful Revelation on it. So I clicked on the off-hand enchant to see if that enchant combo was just a long way behind and it shows this!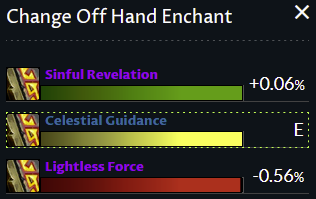 Hopefully that's enough info to sort it out, I know I haven't run any simulations to spot check it but I don't think they're needed here. I'll include an addon export in case you need that too, sorry I didn't think to choose the original one with the Great Vault data in it.
addon export

$108;US;Khaz'goroth;Zakelwe;Illumination;5;1;60;3:150,13:75,12:87,11:175;3;.s1;25;3223321;7;80;.s2;26;3123312;13;80;.s3;27;2121331;7;80;.q1;172320s6b1559b5088b3b285b516b126x173129!8C63FA913;6552s12b-6011b5080b6b707b217b46x0e6170!8C240E052;62s9b-6056b5080b6b707b215b48e52!8C428CF89;1189s15b-6056b5080b6b707b263e-20!8C5F88B8B;6169s1b-6137b5161b6b536x14187!8C776BBE7;4s5b-5703b5161b6b536e28!8C35179A5;2s3b-5703b5161b6b536x-4!8C44622C3;33s7b-5703b5161b6b536!8C81EBC6C;2s10b-5703b5161b6b536x-4!8CA2A2F25;4s8b-7147b1444b5161b542x9e-19!8C4499151;40s11b-5703b5161b6b536b387e-47!8C865022E;2s2b-6090b5161b6b536b386!8C648CBFB;7s16b-6089b5161b6b536e64!8C5761E45;37s13b-5703b5161b6b536!8C70A0601;7s14b-7147b1444b5161b542!8C70BBE2B;932s17b-7146b1463b5141b1051e1!8C306306F;.q2;172320s6b1559b5088b3b285b516b126x173129!8C63FA913;6512s10b-6011b5080b6b707b249e6205!8C34C7EC7;40s12b-6042b5080b6b707b217b46x0e-35!8C240E052;62s9b-6056b5080b6b707b215b48e52!8C428CF89;1189s15b-6056b5080b6b707b263e-20!8C5F88B8B;6169s1b-6137b5161b6b536x14187!8C776BBE7;6s3b-5703b5161b6b536x-4!8C44622C3;33s7b-5703b5161b6b536!8C81EBC6C;3s5b-5703b5161b6b536x3e28!8C9A1593B;3s8b-7147b1444b5161b542x2e-19!8C4499151;40s11b-5703b5161b6b536b387e-47!8C865022E;2s2b-6090b5161b6b536b386!8C648CBFB;5s16b-6089b5161b6b536e59!8C865D5CD;2s17b-5703b5161b6b536e5!8C5761E45;44s14b-7147b1444b5161b542!8C70BBE2B;7s13b-7148b1445b5161b542!8C8EB2B58;.q3;172320s6b1559b5088b3b285b516b126x173129!8C63FA913;6440s1b-6021b5090b6b707b216b15!8C117E422;72s10b-6024b5080b6b707b249e6205!8C34C7EC7;40s12b-6042b5080b6b707b217b46x0e-35!8C240E052;62s9b-6056b5080b6b707b215b48e52!8C428CF89;1189s15b-6056b5080b6b707b263e-20!8C5F88B8B;6175s3b-6137b5161b6b536x14183!8C44622C3;33s7b-5703b5161b6b536!8C81EBC6C;3s5b-5703b5161b6b536x3e28!8C9A1593B;3s8b-7147b1444b5161b542x2e-19!8C4499151;40s11b-5703b5161b6b536b387e-47!8C865022E;1s2b-6090b5161b6b536b387!8C1D3E47C;8s16b-6090b5161b6b536e64!8C5761E45;37s13b-5703b5161b6b536!8C70A0601;7s14b-7147b1444b5161b542!8C70BBE2B;932s17b-7146b1463b5141b1051e1!8C306306F;.sol;u.1.-1;u.2.-1;u.3.-1;u.4.-1;u.5.-1;u.6.-1;u.7.11;7.1.0.247.8;7.2.0.0.0;7.3.1.283.8;7.4.2.0.0;7.5.1.245.8;7.6.0.230.8;7.7.1.0.0;7.8.1.246.7;7.0.1.0.0;7.10.0.231.7;7.9.0.0.0;7.11.1.0.0;u.8.-1;u.18.11;18.1.0.248.8;18.2.0.0.0;18.3.1.235.7;18.4.0.0.0;18.5.1.283.8;18.6.0.247.8;18.7.0.0.0;18.8.1.246.7;18.9.0.0.0;18.10.0.230.8;18.11.1.0.0;18.0.1.0.0;u.13.11;13.1.0.243.8;13.2.0.0.0;13.3.1.233.8;13.4.0.0.0;13.5.1.231.7;13.6.1.283.8;13.7.1.0.0;13.8.1.241.7;13.0.1.0.0;13.10.0.232.7;13.9.0.0.0;13.11.1.0.0;u.9.-1;u.10.-1;.con;233.8;234.8;235.7;236.8;225.7;237.8;238.8;239.7;240.7;241.7;242.8;243.8;244.7;245.8;246.7;247.8;248.8;230.8;231.7;232.7;283.8;.inv;765!74B891224;20!7B7260D17;1662!7B725CFB0;2!74B89121B;1!74B891234;2!74B891213;1!74B89121C;122!74B89125C;780!74B89122E;1!74B891216;1!74B89123F;1!74B891220;11!74B891205;2!834787528;447!74B891239;1!74B891226;1!74B891218;1!74B8911F7;804!74B8911F2;359!74B891300;76!74B8911DD;1310!74B891219;1537!74B8911DB;924!74B891209;5!74B8911FF;2!74B89124E;1!74B8911F4;6!74B891251;1!74B89124F;1440!74B89120A;2960!74B8911DF;217!74B891204;1!74B8911F6;1!74B89120B;1!74B891202;1!74B891200;1!74B891201;2338!74B8911DE;4165!74B89131A;426!87D174C76;5!74B8911E0;13!74B8912F9;814!74B891315;1!74B891317;294!74B8911E1;682!74B8911E2;579!74B891217;1!74B891207;1!74B8911FC;2!74B891208;1!74B89120F;1!74B8911FD;1!74B891203;1!74B891206;1!74B8911FE;5661!74B8911DC;8446!74B891214;2!74B8911FB;1!74B891215;1!74B891246;1!7A927BA75;1!75528BCAE;1!74B891210;955!74B8911E4;58!74B891212;2049!74B8911FA;225!7A927BE8B;2812!74B89120C;2984e846!74B8912FA;732!74B891312;77!74B891313;859!74B8911E3;3901!74B891314;1426!74B8911F8;111!74B891318;3739!74B8911E5;6370!74B891322;1193!74B89128A;6684!8BE25673C;551!74B891319;470!74B8912CC;0!74B89131D;5841x52082e3253!74B89131B;1x0e0!74B89131C;5!74B89126D;5033!74B89127C;3159!7E33E2E07;282!74B891291;43!74B8911C9;98!74B8912D6;7588!8393E12EF;67!7AE6A7A34;1!7AC63E0FE;1128!7AE6AA09F;141!7AE6A6D85;6757x24584e322!74B8911E9;1430!74B891268;5318!8C8D8C054;80!7F5F78794;42!8C48791CF;1!8B4486FC9;4!7F5F7CCD7;1!8CAAF1D78;0!8CAA91809;0!8CAAF1DA3;0!8C906346F;1436!74B8912F0;3015!74B8912A7;106!80C9BBE13;400!8C1B45667;47!8B17298AC;1!8B1729908;2!804C77FD5;491!8C9AD936C;123!8B172997D;1!8C57145A0;60!8C3D53998;2!8366FCD1B;14!8B17299BF;686!8C8086F92;545!8C94FA9F5;860v40b6691!8B26FBE38;1441!8C9AD938B;120!8BFC19DDB;1!7F6FA93C7;422!8495B887C;6!8C84CF8C9;1354!7AA52C618;688!8723B32D3;1327!8145E7F69;1!8C376D619;307!812222C18;4!8200979D2;1540!7A89284A8;0!878F02BE2;315!8619CEA69;230!8C73BAD74;0!7FA889A4D;3167!7CE069AD9;478!89E99EF0F;162b-5948b779x60055y7743z7568!7A7150C7B;200!8B176C730;3!8B17666FC;191b-781b781x-11211y10190z-4!7A727ACDF;2b-780b781x-9743y9747z3!7A7C099ED;3572b288b1819!7B3AE5237;8b-1819b1819!7B3AE51DA;1524b-1819b1819!7A7D83B19;2810!74C3D3249;224!7DD2B4847;11b-1819b1819!7AE599883;9b-171b171!7CC61D5E2;1b-171b171!7CE9B49F8;1b-171b171!7AF8F4ADD;17b-171b171!7C29259A5;20b-1819b1819!7C292622E;29b-171b171!7CE9B49AA;1b-171b171!7CE059433;1b-1819b1819!7AB219790;2328!7AEB2E23E;38!7F01AB51D;2!7A941E2E5;122!7B478C587;602!74B8912B4;211!7AA8EAEE1;2!7AB2B3C9A;1!7DB55C1DF;609!8ADD49278;1!8A53F1741;305b-1819b1819!7CE9B4A3B;284!7A88E2AF2;2631b-171b171e1021!7AC546335;23b-171b171!7AF5E45C1;2682!8C9F6B777;0!8C9F6B797;0!8C9D8885D;0!8C7070A6D;0!8C9F6B7A5;1!8C9F66231;0!8CA844C8B;0!8CA866FA9;0!8C75C4B73;1!8C8E996E0;0!8CA236893;0!8CA785212;0!8CA4348A0;0!8C3F19F4F;0!8C99CE416;0!8C4D085FA;1!8C9F6B911;0!8C9F6B921;0!8C9333FF3;0!8C9F6B92D;0!8C9F6B907;1!8C4D8EDB1;0!8CA773E2B;0!8CA773E27;0!8CA087B3C;0!8CA773E33;1!8CA295EF2;0!8C8E9961D;0!8C8E995FC;0!8CA8670F7;0!8C6B70663;0!8C6B70698;0!8C75C4B0A;4!8C9B69345;0!8C8E949BC;0!8CA30E219;0!8C6F93F9B;0!8CA8670BD;0!8C483ADC2;0!8C9ABD3BE;0!8C776854E;604!8ACF8F6E5;153!7AB90F316;3218!8CA236897;0!8CA867184;0!8CA8671B4;1!8C9F66226;0!8C75C4B26;1!8CA4D5338;0!8C791F7AE;0!8C9DE882E;0!8C75C5286;0!8C3F19E38;1!8C9F6B8E7;0!8C9B583FC;0!8C9F6B8F4;1!8CA773E19;0!8CA773E1D;0!8C75C5298;0!8C57109C8;0!8CA4D532B;1!8C8E995BD;0!8CA773AED;0!8C8E995D3;0!8C8E9959E;0!8C75C5334;0!8C3EAF711;6b-171b171!7AF5DFFA5;208!7A8F2AA61;671b-171b171!7CE03AE93;2b-1819b1819!7CE03AD84;1b-1819b1819!7AD97D5F4;26!7AFA8207F;620!8CA867094;0!8CA785211;0!8C6DFDBD1;0!8C483AD8D;0!8C791F721;162b-171b171x566e-15!7AA062E65;187!80A505D1E;141!8C75873F1;0!8CA23EC60;0!8C75C5392;0!8C75C538C;0!8C8E98865;0!8CA65F2F1;0!8C75C539E;0!8C70E9613;0!8C8E9887B;1!8CA4081E1;0!8C8E98413;0!8C75C541E;0!8CA98C690;0!8C748B879;0!8C9E08F0F;0!8C75C5416;0!8B4E07C25;0!8C8E9833D;0!8C791F785;2!8CA98C68F;0!8CA4081DE;0!8C8E983EB;0!8C8E983CD;0!8C9E08F0E;0!8C75C5471;0!8C8E983A0;0!8C3F1932D;0!8C791F773;0!8C75C544B;0!8B68215D8;3!8CA65F2F0;0!8CA23EC59;0!8C72E0619;0!8C75C53C0;0!8C75C53DB;0!8C8E988AB;0!8C75C53C7;0!8C75873F5;0!8C8E988C9;1204!88556A235;733!8B60E6614;1!88041216E;1!883F25BE4;0!7FEF7DB0D;939!7FC4F1E52;793!8C1CFF073;1444b-2066b3368b1b1383!7CE9EC264;1264b-4773b3232b11b662b1064!831ABCEE1;770!7EE744365;216!8CA766AF2;1675!80947C3B4;461!843C196D7;58!8856EDA22;1085!7EDD8275E;2956!7FA380D36;286!8BFD58BC3;0!8C9502E7C;42!838B1E6AE;82!7F452B9F9;0!8172E2248;42!83B1A8ED2;47!87ECF0B5C;16!88F063BC9;2!87E817226;0!847F3C30E;478b-5036x15976y1195z-316!7F6A5F2ED;1028!8C5784B6F;0!8C1451FE4;0!8CAAF661D;3!8C722EFD2;0!8C109BCAF;3!8C358C974;0!8C18A9E19;213!7F44D9E6B;30!7F6A61483;391b-4b5131!80EFA7E26;76!8CA311050;295!892E32288;1!892E32289;15!7F6A528AE;91!8CA753F7A;0!8C8EBADA9;0!8C7B1CA6E;0!8C9C5FCF3;0!8C10703C8;853!8C7D7EBA1;0!8C16B1508;533!81611B7F4;121!80EF49F70;59!8C24772F5;3!8C46D3CE4;6!8C422EB72;12!8C46CB612;1!8C46CD708;1!8C2998252;1!8C66F534F;24!8C4932E93;0!8C109E8E1;0!8CAAF661E;525!8C511A0E3;1!8C511A530;200!8CAB41DE6;1!8CA568235;11!8C111867A;0!8C8BA7E24;1!8C18F7E9E;1!8C83BDFC1;0!8C10BE28F;2!8C66F4A26;1!8C1755937;289!8C2E0786C;172!813DB9CEB;513!8CAB59101;1!8C29737BC;0!8CAAF4D82;1!8CA853149;0!8CAAF4D83;0!8C24FC94D;1!8C2A13D57;0!8CAAF4D84;1!8CAAF4D85;0!8C2A13D58;1!8C24FBE8B;0!8CAAF4D87;205b-5071b5115b3b108b365e775!8C22B3EDA;697!8C1FCD873;193b-5606b3258b11b38b1687!839A740BA;4b-5009b3273b11b37b1684!816B0806C;625!81B85A073;3!831066BC3;163!81018769F;215!815EFD024;3615b-4957b5096b6b707b244!8CAB4E6C3;14b-6053b5096b6b707b244!8CAB4E755;15!8C17559AE;37b-6056b5099b6b707b215b28!8C329959C;38b-6036b5080b6b707b249!8C6C1EC14;134!8C5ECA44A;319!8C18A46F5;749!8C66396A6;414!8C46DD619;1!8C991A00D;1!8C951D91D;115!8C417C2CF;1!8C48C8227;125!8840DD171;12!8C150B9DA;85!8C9BFAEEC;346!8CAA880C2;305!8C68B87C1;0!8C90E2411;0!8C30123B4;0!8C4D542B5;0!8CA0DF712;0!8CAC20DE4;0!8C8BA7E05;255!8CAB4F795;2!8CAB4F794;3!8CAB4F793;118!8C9537DA8;621!8C95265CB;644!8C851827C;89!88527E73F;496!8C904CF4B;804!8C320028A;269!8CAB4F796;704!8C1183021;163!8C2FD5C11;381!8C2019D8E;274b-6123b5161b6b536b387!8C90E786E;1b-6090b5161b6b536x18881!8C776BBE7;4b-5703b5161b6b536e28!8C35179A5;37b-5703b5161b6b536x-8!8CA2A2F25;46b-5703b5161b6b536b386!8C648CBFB;5b-6089b5161b6b536e-7!8C865D5CD;14b-7148b1445b5161b542!8CAC23EC7;39b-7148b1445b5161b542!8C8EB2B58;281!8C201E358;9!8C1666821;4!8C2E71F03;238!8C511328D;7b-5709b5167b6b1041!8C57AA9CE;83!8C3522BEC;2!8C34F5411;15!8C2486C39;3!8C34E734B;257!8CA5DC502;95!8C2FD24EE;77!8C9C2E584;24!8C45006BB;40!8CAC20DFE;1!8CAC20E08;1082!8C9989DD5;1!8CA5D62CB;1!8CAA8FA12;.gv$