Hi AMR !
So their is some move on mistweaver gearing. That nice but still some BiB solution i doesn't like.
First things first, the code at the end of this post.
- MM+ gearing -
After the last upgrade, this trinket keep comming in my BiB and thats weird. Mana shouldn't be a problem in MM+ si we consider we can regen after every packs.Probably just a margin error. The script using Moroes so my guess is the fight is too long.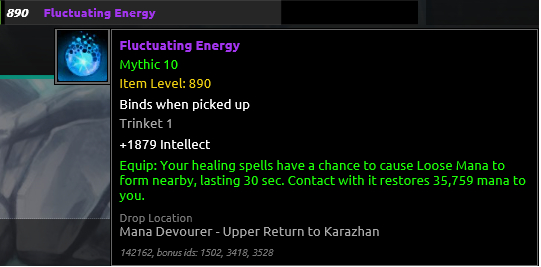 Other one :


My guess here it's the "leech" having a very hight rank in healing, so maybe nothing "bad" just me that doesn't like the 895 items
- Shaohao gearing -
RAS but it's really good to have a real gearing strat and not one of mine.
- Raid Healing-
For this one i just doesn't like the belt "Ovyd's Winter Wrap" because i never use the "Enveloping mist" spell. My Hpal keeping tanks at full life.
So with this i could take a better look in the "MM+" gearing strat. Some afflix aren't script yet ? As Quaking ?

Just giving some idea:
Could it be possible to do a gearing depending on afflix ? I would take a long time but with the Glonet, it could be possible ? Having every week a sims going on, for the afflix of the next one. For example, last week with bursting you have a very predictaded dmg in comming. That could do more then 70% of the max life every 2s. This kind of afflix could use a lot more haste / mastery than explosive where you will have random dmg going on but rarely a burst heal needed.
Thanks for your time !
Sienss
54;EU;Hyjal;Sienss;Vox Draconis;13;2;110;13:815,15:8,11:800,3:800,14:786,12:800;2;.s1;16;2123213;1277,1,1,1,1,1,1,1,1,1,1,1,1,1,1,1,1,81,167,1,1,1,98;1,4,4,4,4,4,4,4,4,4,1,1,1,1,1,1,1,1,4,1,1,11,1;137327b1577b3337b3535,147114b1497b3528b3562,151292b1587b3337b3418;1,1739,35,-4,-489,-2,6,1,0,1,0,0,0/2,454,42,2,-498,-2,-5,1,0,0,0,0,0/3,461,32,-1,-486,-3,4,1,0,0,0,0,0;.s2;17;1133122;931,1,1,1,1,1,1,1,1,1,1,1,1,1,1,1,349,80,170,1,1,1,95;1,1,1,1,1,1,1,4,4,4,4,4,4,4,4,4,1,1,4,1,1,15,1;147093b1507b3336b3562,147105b1507b3336b3562,147113b1517b3337b3562;1,1739,39,-1,-837,4,-5,1,0,1,0,0,0/2,800,41,2,-844,607,-602,1,0,1,0,0,0/3,796,40,-9,-827,-2,4,1,1,0,0,0,0;.s3;18;3113132;800,1,19,1,1,2,1,1,1,1,1,1,1,1,1,261,247,35,173,1,1,1,92;4,4,4,4,4,4,4,1,1,1,4,1,1,1,1,4,1,1,4,1,1,7,1;137270b1562b3528b3573,147101b1497b3528b3562,142194b1532b3336b3417;1,1739,40,5,-690,-294,24,1,0,0,0,0,0/2,915,32,11,-961,1,727,1,0,0,0,0,0/3,190,41,3,-689,-294,1,1,0,0,0,0,0;.q1;128938s16b732x137327y9787z4178;5257s10b865b1740b81;174s8b-1831b1749b82;39s15b-1836b1755b80;40s7b-1815b1735b81;2568s5b-1607b1759;517s11b-2003b1851b110;6726s14b-1717b1759;2753s13b-2073b2031b34;2s2b-2050b1825b225;7s12b-2065b311b1720b34x291e5430;18s6b-2060b1834b226;2s9b-2045b1820b225;113s1b-2050b2016b35;2s3b-2071b1844b225e501;.q2;128937s16b733x147093y12z8;3507s2b2726b111x-16892e5437;1193s12b-1998b1764b82e-10;643s9b-3377b1551b1745b199;168s7b-1934b1735b81;2876s8b-1836b1755b199;4815s5b-1964b236b1529b81x0;2119s14b-1607b1759;2749s13b-2058b1824b226;14s11b-2065b311b1720b34x21362e3;19s6b-2065b2031b34;112s15b-2065b2031b34e5;1s10b-2065b311b1720b34x-21362;1s1b-2050b2016b35;2s3b-2071b1844b225e448;.q3;128940s16b734x137270y9831z-4907;5008s17;331s11b853b1750b236;169s7b-1971b1735b81;40s2b-1871b1789b82e5891;2609s9b41b70b41;227s8b-1988b1755b199;4815s5b-1964b236b1529b81x-11973;2120s13b-1607b1759;2762s12b-2073b311b1720b34x21362e-461;131s15b-2065b2031b34e5;1s10b-2065b311b1720b34x-21362;1s1b-2050b2016b35;2s3b-2071b1844b225e448;191s6b-2054b2021b34;3960s14b-3520b1525b241b1528b237;.r;_;.inv;3371;0;966;2611;3077;16019;1;18993;760;25285;551;13872;4045;14714;4811;617;867;997;1704;1;2;2016;1135;1930;127;450;19;645;1359;0;343b1572b1956b45;1330;1301;182;0;0;1;0;1;1;2;1;0;1;1;1;1;1;3;1;1;0;1;1;1;1;0;3;0;313;0;0;0;0;1;1;0;1;1;1;2673;655;70;3;3;1;1;370;86;0;10;624b-2841x137327y9787z4178;2b2x-14022y9831z-4907;92;2;66;187;2;948b-134b79b10b1063x-11946e5437;3328;0;1;1;1;0;0;2;1;0;2;0;0;1;0;4;10;1;4;14;0;0;13b-180b1764b82;14b-1876b266b1528b200x-29e-7;3b-1979b1780b81e0;1b-1921b316b1597;1b-1883b1810b80;6b-1920b316b1598;0b-1814b1740b81;36;0;0;34;40e500;402b-1856b1775b236;38b-1976b1740b81;45b-1851b1770b81;39b-1831b1750b236;90b-1986b1749b82;2b-1836b1755b197;33b-1982b1785b199;1b-1954b1755b199;3b-1954b1755b80;21b-1845b1765b197;13b-1982b1784b82;3b-1831b1750b81;2b-1856b1775b81;8b-1866b1785b199;0b-1949b1750b81;0b-1866b1784b82;5b-1846b1764b81;28b-1870b1789b82e-39;1b-1861b1780b81;1b-1856b246b1720b45;0b-2056b1819b80;2b-1859b251b1529b81;6b-1831b1750b81;30b-1876b1794b81;3b-1875b1876b110e-461;1b-1961b1769b237;5b-2036b271b1529b173x2e-3;2479b-1699b1759;3b-111b111;49b-111b111;28b-111b111;1b-111b70b41;223b-3527b1539b1755b81;4b-1871b1963b18;12b-1961b1851b110;42b-2036b235b81b5;41b-276b1799b199;21b-1963b1765b197;15b-1977b1780b81e456;25b-1831b1750b81;0b-1866b1784b174;4b-2008b1834b75;0b-1879b281b1722;25b-1968b1851b110;5b-1966b1966b8;1b-1994b1876b110;15b-1976b1785b199;3b-1969b1851b110;0b-1976b256b1720b6;62;1;0;1;0;45;469;181;0;33b-2032b1835b179;3b-2024b1844b180;3b-3473b1444b2029b12;3b-2026b1835b179;3b-3475b1451b1844b180;542b-57b111;226b-2013b1779b82;53;2;15;61b-1921b308b3b1528x27e-453;6b-3295b1511b1785b199;6b-2049b318b3;535;77;86;246;280;115;0;0;202b-326b331b1631;2b-1947b1840b107;2b-1962b331b1631;0b-1937b1829b109;1b-1963b1962b84;2b-2041b2029b12;6b-3486b1450b1844b180;1b-2029b2029b12;2b-2056b341b1701;1b-2022b1844b180;1b-2024b316b1709b11;50b-2041b2029b12;2b-3488b1447b321b5b1703x-29;1b-2034b326b5b1631x0;1b-1952b1844b180;1b-3473b1459b1834b109;2b-1958b321b5b1703x2;31b-2029b326b1703e0;1b-2009b1830b179e0;1b-2024b316b1529b178x26;2b-2028b2029b12;1b-2021b1830b179;0b-2019b1840b177;5b-2027b326b1703;3b-2019b1839b180;11b-2019b1839b181;87b-1985b1996b45;318;1;121;0;36b-2101;0b0b1994b62;123;47;465;22b-1991b1799b80;1b-1894b1815b81;2b-1911b1829b173;16b-1987b1815b81;4b-1916b1916b110;4b-2056b336b1646x-28;4b-1932b1815b81e6;1b-1906b215b1610e-6;1b-1805b1804b82;37;125;1;1;92b-1921b311b1699x2e461;41;1192;588b-1696b1759;10b-1759b1759;18b-111b70b41;63b-111b111;137b-1998b1764b237;2280;146;3;57;21b-2061b2016b35;19b-2081b2046b33;2b-2064b2031b34;0b-2065b2031b34;6b-3520b1455b2031b34;1b-2065b2031b34;1b-2065b311b1720b34;1b-2050b1825b225;6b-2065b311b1720b34;0b-2065b2031b34;1b-2065b2031b34;1b-2045b1819b227;0b-2066b2031b34;2b-3520b1460b1834b237;1b-2076b2031b34;1b-2075b1849b228;1b-2052b1825b225;1b-2065b1840b224;0b-2064b2031b34;1b-2060b1834b226;0b-2080b2046b33;4b-2054b1829b226;1b-3522b1467b2021b34;0b-2070b2036b33;1b-2044b1819b227;0b-3521b1460b1834b226;0b-3520b1440b2046b33;2b-2059b1834b226;2b-2060b1834b226;1b-2075b1849b225;0b-2064b2031b34;1b-2045b1820b225;1b-2070b1844b225;65b-2079b2046b33;44b-2054b1829b226;3b-2065b2031b34;1b-2060b1834b226;38b-2065b2031b34;2b-2060b1834b225e-464;31b-1860b1438b197b237;31b-1799b1390b172b237;0b-1809b44b1351b369b45;90b-2066b2021b34;220;140;31b-2080b2046b44;2b-2085b1849b236;26b-2085b1849b236;3004v110b17;363;174b-3547b1525b241b1528b237;258;0;0;0;1;1;1;15;60b-114b111;10;131b-111b111;578b-2098b2056b86;81;578;93;77