Working on my Twin Emp warlock tanking set, and I've noticed my in-game HP/MP are a few hundred off from what Mr. Robot reports. Not usually something I care about, which is why I've never noticed until now, but definitely a thing.
In game, I've got 4304 HP, 5143 Mana - no buffs, no pets, just sittin' there in IF.
Here's what Mr. Robot's got (note I've also made sure to turn off all buffs/etc here too):
https://www.askmrrobot.com/classic#us/grobbulus/devloc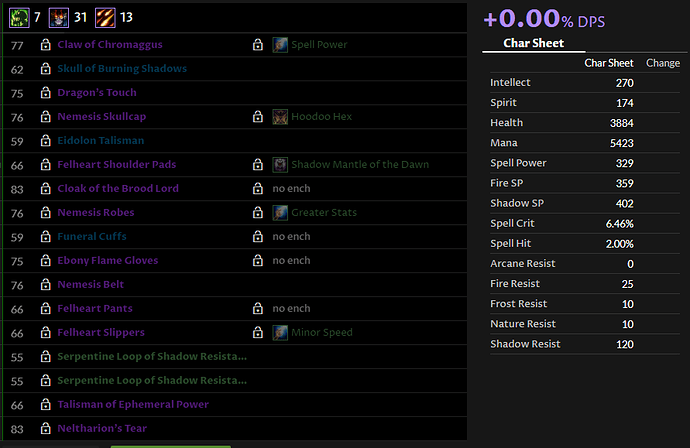 It looks like the talent Demonic Embrace isn't been factored in? Stamina isn't shown, but Spirit is listed as 174, where in-game it's stated to be 160.
That doesn't explain mana being off by 280 tho.
Also of note:
There are a few items that haven't been linked to P5 (though that is moot soon) but the Shadow Guard (and other "Guard") enchants for helm/legs aren't until P6.