Hey y'all - I'm doing some simming with 2p of the tier set and seeing some odd behavior in the results. This is the sim I'm looking at: 7d20903802884ae79431a1ae1cd3e465.
In that 5m sim, I'm only seeing about 45% uptime on Elemental, which felt low (given Surge of Power and Night Fae Unity leggo). I'm expecting that between the 20% increase of Lava Burst damage during Elemental from 2p and the 20% increase from the WLR legendary, we'd want to use Surge of Power procs on Lava Burst every time, both for DPS and for Elemental uptime. However, it appears that in the APL, Surge of Power Lightning Bolts are above Lava Bursts. In fact, there's no logic for Lava Burst in relation to Surge of Power at all, that I can see. This doesn't feel right.
This is probably what's resulting in the DPET for Lightning Bolt to be higher than Lava Burst, which I would really doubt is the case in a normal situation:

Digging into the event log, I'm seeing some strange things. Here, it looks like we have an Earth Shock (triggers SoP and WLR) and then a Lava Burst, but the LvB does not consume the SoP buff. Strange! Moments later, we see a Lightning Bolt cast that does consume the SoP buff: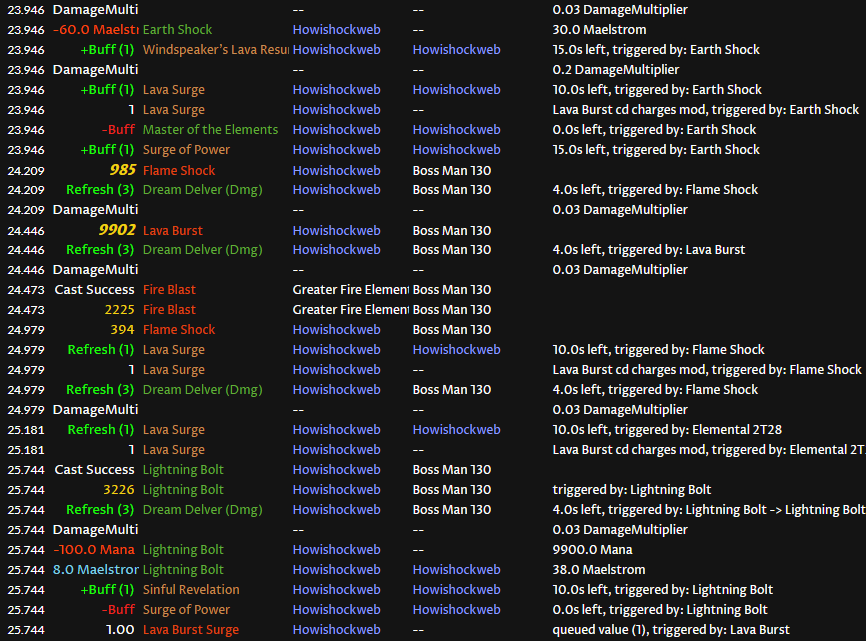 This behavior happens a few times throughout the log. Is it possible that the sim is missing the interaction between Surge of Power and Lava Burst CDR on Fire Elemental altogether?
I felt like I was going crazy parsing through this stuff. And I might be wrong! Would appreciate some guidance. Thanks for taking a look!