Snapshot #1: 9ba37725bad140c69ff9fe09b7a1164a
Snapshot #2: d6d4da98e07e4165b3639356b1eb972b
Hello!
So, playing around with the debuffs, I noticed a couple of things I would like to point out or understand where the logic for such decisions are coming from.
I noticed that AMR is considering both debuffs, if selected (Sunder & EA). For someone unware, Sunder and EA don't stack, the better one usually overwrites the other, however AMR is stacking both in its calculation.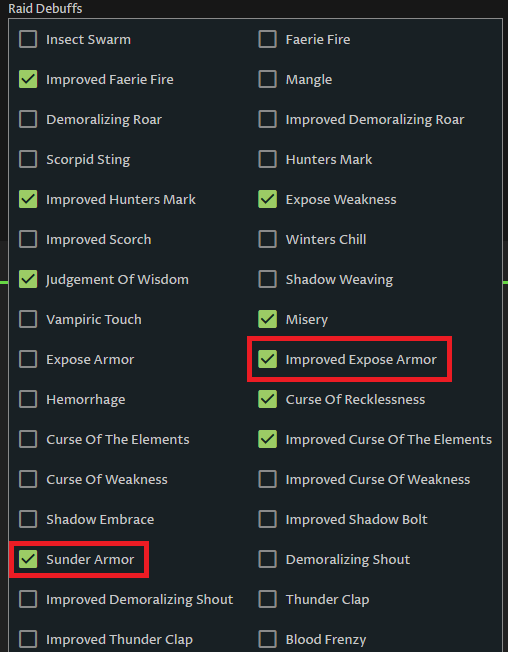 So, I used two different settings for Sunwell.
With the current #1 Snapshot, I'm well above the Armor Pen "Cap", basically not benefiting from any extra.
#1 Snapshot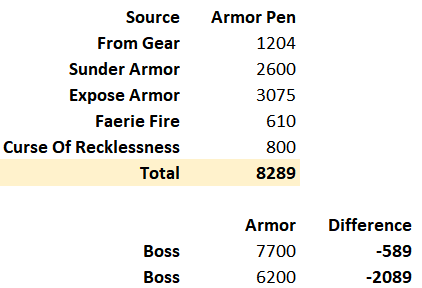 On the second snapshot, the armor pen I have is still high enough to the point of going past the 6200 mark.
#2 Snapshot

Is it possible to add an option to select how much armor the target has? It would be much easier for those trying to min/max certain fights and also make sure the gear choices don't go past that threshold unless it's absolutely impossible not to.
Thank you!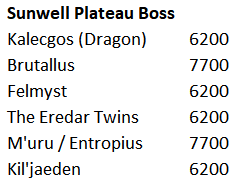 Source for Boss Armor: https://forums.smolderforge.com/viewtopic.php?t=5446
Source for Raid Debuffs: Burning Crusade Classic Buffs & Debuffs By Class - Guides - Wowhead
Source for EA&Sunder Info: Let's talk about: Expose Armor in PVE – Silent Shadows