Snapshot: c9d102334c5a4247a385fc3be2bcb01a
Good evening!
I have the feeling there is something wrong with the gearing strategy used by AMR on BIS gear for Hunters, at least for P1.
Without locking any item. DPS Improve of 1.31%

When I lock Skulker's Greaves. DPS improve of 2.11%

Edit
Snapshot #2 609d77e3897249f5aaa470a7bee4760e
Also, the fact that AMR isn't selecting Scaled Greaves when I enable World Bosses is a bit concerning.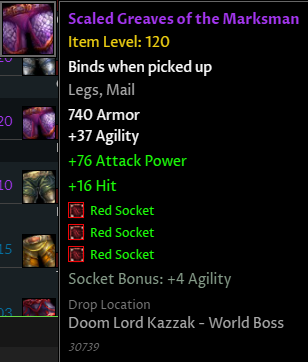 Even without World Bosses enabled. Skulker's Greaves should be the #1 choice.