It seems like I'm getting the wrong gem suggestion from BiB. I imported my data (included at the bottom) and used the following settings:
Gearing Strategy: Single Target
Gem Quality: Epic
Enchant Quality: All
Gem+Enchant Threshold: Disabled
Azerite Threshold: Disabled
Reorigination Array: +450 Highest Stat
Then BiB comes back with a haste gem in my wrist slot. And, to be fair, I already have a haste gem in that slot. But if I click on that haste gem to change it, it says versatility is +0.12% DPS. This is the sort of behavior I would expect to see if I had enabled the Gem+Enchant Threshold.
And since a picture is worth 1024 words: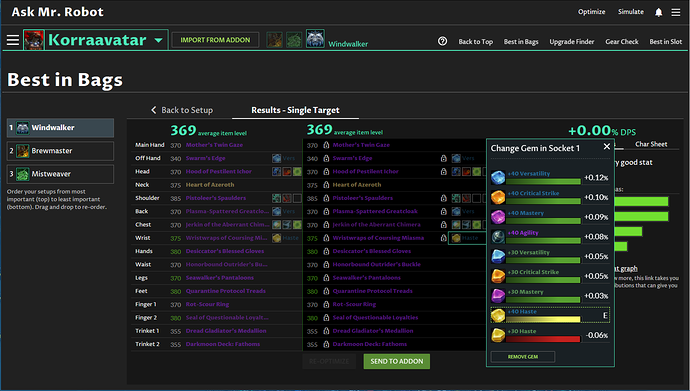 Thanks!
–Korra
64;US;Firetree;Korraavatar;Solidarity;13;2;120;26;13:165,15:800,12:150,1:150,3:150;3;.s1;16;1211111;.s2;17;0000000;.s3;18;1322132;.q1;158075s2b1522b3407b1b6;239s12b-3384b3232b225e5945;998s10b-3457b3231b227;10s7b-3468b3241b226;9s3b-3452b3229b277a278577a-11640;1288s5b-3571b3294b37a13618a-16571a-22;2s9b-4780b1454b311b2975b16x154127;2s1b-3307b3294b37a15956a-19a-15937;1s8b-3321b3281b16;20s15b-3307b316b2978b13x1;1s11b-3307b3294b13e0;7s13b-3332b341b2975b18;311s16b-3284b3268b18;415s14b-3301b3282b14;2061s6b-3236b3224b340;.q2;157947s3b1532b3608a280380a-13443a1659;128s2b-3622b3411b1b6;239s11b-3384b3232b225e5945;48s12b-3482b3259b219e0;352s17b-3493b3267b7b16x154128e17;411s14;492s13b-3290b3267b7;1001s10b-3294b3294b13;1s5b-3307b3294b37a11959a-16571;2s9b-3346b3309b12;1s6b-3306b3294b13;1s1b-3322b3309b36a15934a-19a-15937;1s8b-3320b3281b16;20s15b-3307b316b2978b13x0;38s16b-3307b3294b13e1;4559s7;.q3;158075s2b1522b3407b1b6;239s12b-3384b3232b225e5945;400s17b-3497b3267b7b16x154128e17;411s14;187s10b-3250b3231b227;10s7b-3468b3241b226;9s3b-3452b3229b277a278577a-11640;1288s5b-3571b3294b37a13618a-16571a-22;2s9b-4780b1454b311b2975b16x-1;2s1b-3307b3294b37a15956a-19a-15937;1s8b-3321b3281b16;20s15b-3307b316b2978b13x1;1s11b-3307b3294b13e-17;37s16b-3307b3294b13e18;992s13b-3252b3239b279b63;1765s6b-3566b3224b340;.inv;2459;442;4047;64135;551;9421;5088;1073;5525;5974;10361;0;146;1338;5855;2;1;11935;584b733b751b3b2x133683y3624z6397p1502p2026p45q-2079q232q1611r-1850r337r1704;1b-757b753b13b7x8348y-15044z15285p-2041p2041p83q-2127q322q1722r-2016r1824r276;2b-771b763b5b2x3560y-3804z3804p-2130p2046p82q-2103q1830q274r-2109r1834r275;8702;2550;1254;159;5689;0;0;7;1;0;0;0;2;403;4931;0;385;1863;0;3292;184b23b3259b219e5942;1182v120b-3298b3089;509;0;426;143b-3304b3294b13;30b-3332b341b2975b18;0b-3309b3294b13;311b-3282b3268b18;415b-3301b3282b14;301b-3261b3249b16b308b18x-2145e23;321;557;479;187;381;87;7;2;1;42