Guys, can someone, please, take a look at this and explain it to me? And also please confirm that we are absolutely certain about all this? This is supposed to be all math, after all, and my query also has to do with my vault rewards; something that I wait a whole week for, and sometimes the only way I'm ever going to get an iLvl 252 trinket or the like.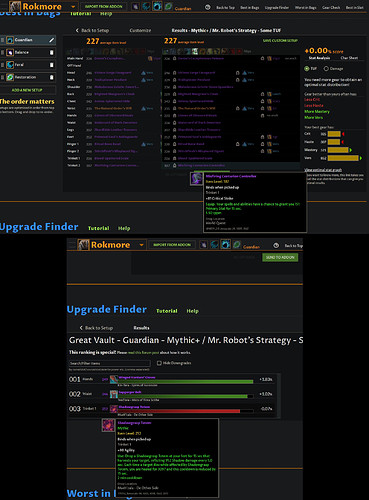 ( Pawn: v1: "Rokmore - Guardian": Class=Druid, Spec=Guardian, Agility=59.71, Armor=104.16, Avoidance=0.02, CritRating=38.44, HasteRating=59.51, Indestructible=0.01, Leech=85.46, MasteryRating=80.58, MaxDamage=0.01, MinDamage=0.01, MovementSpeed=0.01, Stamina=97.74, Versatility=95.24 )
P.S. I'm aware that Pawn strings are not always dependable and there's never a fixed stat priority order but the Upgrade Finder is clearly following this stat priority now, and it goes against every Guardian guide out there, maybe except AMR's guide.
The potential amount of waste of time being at risk here is genuinely stressing me out, because even though this is just a game, it's also a major time sink that Blizzard has intentionally designed to leech on people's time with repetitive & mind-numbing farming activities if they want to beat the RNG cancer and achieve their gearing/raiding goals. So, this is not just about the game; this is about my most important resource in life, time, and I really don't want to waste that much of it by making such potentially drastic wrong decisions while trusting potentially flawed math or flawed ways of using infallible math.
Please help me out here; I'm also traveling, and would really like to get my vault weekly done today, so my query is rather urgent.
Thank you.